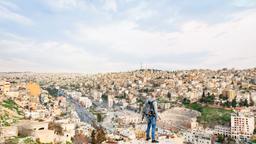 Hotels near Queen Alia Intl airport
Search hundreds of travel sites at once for Queen Alia Intl airport hotels
Best hotels near Queen Alia Intl airport
Based on 1,770 reviews
All
Families with older children
Families with young children
Families
Young couples
Couples
Groups
Solo travelers
Business travelers
Cleanliness
4.9
Comfort
5.0
Facilities
5.8
Food
3.0
Location
6.7
Cleanliness
2.0
Location
6.0
Overall
3.0
Staff
2.0
Value for money
2.0
Cleanliness
3.0
Facilities
3.0
Food
3.0
Location
8.5
Overall
3.0
Cleanliness
4.6
Comfort
4.6
Location
6.3
Services
4.3
Staff
5.1
Cleanliness
6.2
Comfort
8.0
Facilities
4.0
Location
8.5
Overall
5.7
Cleanliness
5.4
Comfort
5.6
Location
7.5
Services
5.0
Staff
5.9
Cleanliness
5.4
Comfort
5.6
Location
7.4
Services
5.0
Staff
6.0
Cleanliness
4.8
Comfort
4.9
Facilities
6.8
Location
6.5
Overall
6.8
Cleanliness
5.2
Comfort
5.2
Location
6.9
Services
4.7
Staff
5.5
---
Pros:
The breakfast is good and the stuff are good
Cons:
This is my first time staying at the airport hotel, the room was not clean as it should be and the hair dryer was broken and not working it view was even very bad
Pros:
Nothing to like! Worst hotel ever!
Cons:
Didn't like anything! Very bad experience! It should be 1-star hotel.
Pros:
Horrible. Worst hotel ever. And too expensive with tiny rooms. And short staff.
Cons:
Horrible. Worst hotel ever. Too expensive for tiny rooms. Not clean and short staff
Cons:
The reception didn't go at the phone, to expensive for nothing! The breakfast is very bad and without love made! I think I will not come again! The transfer to hotel with old bus dirty to much!
very bad. expensive. not worth the money paid. very miserable breakfast
Spacious room and accommodations, impeccably clean. Warm, cozy and relaxing. The thing is, in the States, a hotel like this would easily cost quite a few hundred dollars a night -- and you would sacrifice cleanliness, amenities, space and hospitality. But this overlooked hotel near the airport (calling it an airport hotel is misleading, because it makes you think that it's poor quality), was really a gem. Nothing more I could ask for just continue giving guest the great service that you provide.
Pros:
Wifi was very slow in the room, staff were somehow frinendly,
A kind of lazy attitude everywhere. Nobody looks serious. The rooms service was lousy. Nobody even cared to solve the issues. There were not even toilet tissues. I think they are happy with the transit passengers. They need to learn the art of treating a guest, from the basics.
Nothing about this hotel is good. Absolutely nothing. I'd liken it to Faulty Towers except I think that might be a disservice to FT. The food was absolutely horrific, there are barely any guests - a testament perhaps to the state of the hotel. The rooms and hallways smelt smoky and featured grubby carpets, our first room even offered an unmade bed! The only reason to stay here is that the hotel is close to the airport, but, in future, I'll travel further just to avoid this hotel. It's also not cheap. Clean up the rubbish that is littering the outside pool area. Clean the pool. Clean the hotel.
Pros:
The Staff is EXCELLENT! Wonderful people and they always remember you. The Staff is the only reason why I return.
Cons:
The rooms are too hot and they do not allow for comfort control throughout the year. I have to travel through there for business and my only issues is that the room heat and air are controlled by the hotel. The bathrooms and rooms are not very clean. I need a cooled room to rest in. The internet is very slow and disconnects a lot. The overall facility could use a modern improvement and better cleaning.
Pros:
The hotel was great, the 24 hour shuttle was a life saver for my 3am flight and untraditional schedule. The staff were all amazingly kind and helpful and had impeccable English and Arabic. The food was very delicious and an incredible value. my room was huge, clean, and the bed was extremely comfortable. Was a perfect place to rest after exhausting travel.
Cons:
I was a little confused with all of the options for where to eat within the hotel at first (there are 4 restaurants), but quickly a staff member helped me explain the differences and make a great choice.
Pros:
The staff are amazing. It's not a four star hotel, but it's great if you have a long layover and don't want to stay in the airport.
Cons:
They are updating some of the rooms and they need to.
FAQs when booking a hotel near Queen Alia Intl airport
How much is a cheap hotel near Queen Alia Intl airport?
How much is a cheap hotel near Queen Alia Intl airport for tonight?
How much is a cheap hotel near Queen Alia Intl airport for this weekend?
How can I find hotels near Queen Alia Intl airport?
Where to stay in Amman?
Our map will help you find the perfect place to stay close to Queen Alia Intl airport by showing you the exact location of each hotel.
Accommodations
Airports in Amman