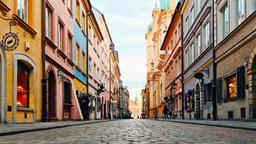 Hotels near Modlin airport
Search hundreds of travel sites at once for Modlin airport hotels
Best hotels near Modlin airport
Based on 105 reviews
All
Families
Couples
Groups
Solo travelers
Business travelers
Cleanliness
7.5
Comfort
7.5
Location
8.2
Services
7.2
Staff
8.6
Cleanliness
7.5
Comfort
7.2
Location
7.8
Services
7.5
Staff
8.1
Cleanliness
7.8
Comfort
7.8
Location
9.1
Services
7.2
Staff
8.4
Cleanliness
7.8
Comfort
7.6
Location
7.8
Services
7.4
Staff
8.7
Cleanliness
7.4
Comfort
7.5
Location
8.4
Services
7.1
Staff
8.7
Cleanliness
7.5
Comfort
7.5
Location
8.2
Services
7.3
Staff
8.6
---
Cons:
Sometimes no staff could understand Englishg and I faced difficulty in finding a restaurant nearby.
Based on 671 reviews
All
Families
Couples
Groups
Solo travelers
Business travelers
Cleanliness
6.3
Comfort
5.8
Location
7.1
Services
6.3
Staff
7.8
Cleanliness
6.4
Comfort
6.2
Location
7.5
Services
6.6
Staff
8.1
Cleanliness
6.3
Comfort
5.6
Location
6.9
Services
6.2
Staff
7.5
Cleanliness
6.8
Comfort
6.5
Location
7.1
Services
6.7
Staff
7.8
Cleanliness
6.0
Comfort
5.7
Location
7.1
Services
6.2
Staff
7.9
Cleanliness
6.1
Comfort
5.6
Location
7.0
Services
6.1
Staff
7.8
---
Pros:
Water pressure was pretty good
Cons:
The bed should be thrown away. So uncomfortable and old mattress. Pillows were too big and hard. The walls are paperthin. We woke up several times because some men were shouting and lauging in the corridor. Someone even wanted to come inside our room, luckily the door was locked. We were just passing through the country and needed a good sleep, we didnt get that. Food was not good.
Pros:
Location was good because it was close to my next meeting
Cons:
Furniture is old, bed was terrible, bathroom is small, windows are bad and all noise from the street you can hear very well
Pros:
Good location, very good breakfast, perfect price
Cons:
I can't sleep. The hi way is near the hotel that's why it was very noisily
Pros:
Very friendly staff !!! Thank you so much!!! Large room with underfloor heating and a huge terrace! Lovely, delicious breakfast! Private parking inside.
Cons:
Old and uncomfortable mattresses in beds. Urgent need to be replaced.
Pros:
1. Small and simple but enough good and free breakfast; 2. Free and big parking; 3. Good floor heating. Very good! 4. The staff speak English well; 5. Good price for one night including free parking and breakfast;
Cons:
1. Poor Wifi; 2. A little bit noisy from the main street; 3. The bed were with springs and enough rigid. I have slept well but my girlfriend was upset. 4. The inside of blanket was with big spot and it made big unpleasant feeling :(
FAQs when booking a hotel near Modlin airport
How can I find hotels near Modlin airport?
Where to stay in Warsaw?
Our map will help you find the perfect place to stay close to Modlin airport by showing you the exact location of each hotel.
Accommodations
Airports in Warsaw